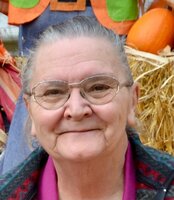 Olga Helen Vowell
Surrounded by the love of her family, Ollie ( Granny )passed away peacefully on November 7, 2021. She will be greatly missed by her daughters Jody (Tom) and Tammy (Al). Grandchildren Jami, Cory and Mason. She was predeceased by her parents Nick and Mary Makaeff as well as her sister Dorothy.
Ollie was born November 11, 1942 in Kamsack, Saskatchewan. With her family, they moved to Winnipeg and she attended Aberdeen school and St. John's high school.
Mom worked for Great West Life, Air Canada, River Rouge and later became a courier driver for Pony Express which she loved.
Her retirement meant she could spend time with her grandkids which brought her the greatest joy. She loved to babysit and the stories the grandkids could tell would leave anyone wondering why we left her alone with them. The kids loved every minute of it.
Mom enjoyed bingo, camping, knitting, country music and going to every small town fair all summer long. Time spent watching her grandkids' sports was something she always looked forward to. She also loved watching her beloved Blue Bombers and Toronto Blue Jays.
One of her favourite past times was to knit scarves for charity. She knitted for many years creating some of the most multi-coloured scarves that were given to children. We are thankful to be able to donate her yarn to some wonderful people who will create scarves in moms memory.
Her love of food and pickling beets in any size jar she could find were always a crowd favourite. Her small apartment could easily hold 100 jars of beets ready for delivery. She loved to go for a drive to Lockport for a hotdog or cooking up a storm for her neighbours at Willow Park where she lived for the last 21 years.
Mom loved to go shopping on Saturdays, she could easily shop two handfuls of stores only to buy one item here and one item there. It was a weekend tradition of shopping and lunch often leaving her daughters with sore backs carrying in enough food for a month up the stairs.
Although mom had some health issues, she rarely slowed down and still had plans for a bbq and a boat ride in Cory's boat. We will celebrate her with a bbq that she planned with T-bone steaks because she loved a good steak.
Mom, you left us with a lifetime of stories, memories and will always be in our hearts. We will miss you and love you always.