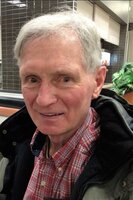 GRANT NERBAS
Grant Nerbas
It is with deep sadness that we announce the passing of Grant Nerbas on November 14, 2021. He lived a full life and passed away with family at his side. He was predeceased by parents Mary and Fred and siblings Fred, Don, Pat, and Helen. He leaves to cherish his memory his wife Nadia, daughters Miranda and Marika (Jon), and family and friends around the world including in MB, BC, Ireland, ON, and PA.
Grant grew up in Winnipeg, graduating with a BA from United College and Law Degree from U of M, where he was also Senior Stick. For most of his career he served as General Counsel for CN rail. He was active in the legal community and as a bar association section leader created the 'loonie for lunch' concept. His eventual retirement did not suit him, so he resumed work in private practice and then as a consultant, stopping only due to health issues in 2019.
He was active in many charities, often as founding member or in a leadership role including as past president of Meals on Wheels and Kiwanis. His efforts were always rooted in a desire to help others and solve problems, usually in entirely original, unexpected ways. He was a creative thinker and storyteller, with wide interests from poetry to world affairs. He was devoted to his many friends and was a fixture at local music venues. He loved to tell the story of how he prevented an iconic CN clock from leaving Winnipeg, ensuring that it was given a local place of honor in the Hotel Fort Garry.
He was an accomplished athlete, playing and leading many team sports throughout his life, most recently competing with his winning team in an international senior's baseball league. There was no sport that he couldn't master.
He will be forever remembered and sadly missed by all. As per Grant's wishes there will be no service. In the spirit of his kind, inclusive and generous personality, his unfailing, selfless dedication to supporting anyone who crossed his path, and his warm sociable nature and sense of fun, we invite you to help someone in need, spend time with family or friends, raise a toast and share your stories, or donate to Kiwanis or a favourite charity in his memory.