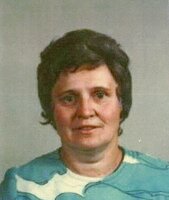 JULIA SARNOWSKI (nee BYZIO)
JULIA SARNOWSKI (nee BYZIO) MARCH 13, 1923 - APRIL 28, 2022
On April 28th, 2022, Julia Sarnowski (nee Byzio) passed away after a brief illness at The Convalescent Home of Winnipeg. She was 99 years old.
Julia is predeceased by her husband Stefan, sister Mary and brothers Jozef, Edmund and Jan.
She is survived by her sister Helen, brother Edward, nieces Elizabeth, Eva and Lucy, nephews Mark (Barbara), Edward, Robert and Marek (Ela); and many friends and family in Canada, Poland, and Australia.
Julia was born on March 13,1923 in Poland. She worked as a nurse's aide after she immigrated to Canada. Julia enjoyed cooking, gardening, and travelling. Her laugh and sense of humour will be missed by all who knew her.
Many thanks to the caring and compassionate staff at The Convalescent Home of Winnipeg, who made Julia's last years happy ones.
Funeral service will be held on Tuesday, May 10 at 11:00 a.m. at Cropo Funeral Chapel, 1442 Main Street. Interment to follow in Holy Ghost Cemetery, 4387 Main Street (West St. Paul)