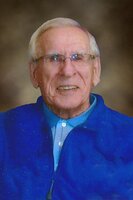 PETER MELNYK
PETER MELNYK
1928-2022
After a lengthy illness, Peter passed peacefully at Riverview Medical Centre.
He was a child of The Great Depression and one of eight children. Circumstances being what they were, he left school at 14 for the work force. After a time, he joined CP Rail where he spent 35 years, retiring as a conductor at age 58.
Through these years, he and Adele married in 1953 and in 1959; they started their young family – two beautiful sons, Bruce and Paul. All three loved fishing, curling, etc. In the 1960's, Peter and several of his colleagues became founding members of the AAC Fishing Club on the Winnipeg River, which became a family resort for many years. Soon retirement came, and changes occurred. Florida called in the winter, and Elmhurst and the cottage in the summer, until our health no longer permitted.
Peter is survived by Adele, loving wife of 69 years, son Bruce (Patti), brother Harry (Sylvia), Nance (Paul), Sister-in-Law Eleanor, three grandchildren Riley, Taylor, and Sarah, and great grandson Logan, and numerous loving nieces and nephews.
He was predeceased by beloved son Paul in 2006, siblings Ann, Steve, Nick, Bill, Wally, and Mary, and his brother-in-law Adam.
Peter truly was a good, gentle man.
It is not whether you win or lose, it's how you played the game.
Sleep well my love.
Cremation as occurred. A private family interment to follow at a later date at Glen Eden Cemetery, adjacent to son, Paul. Flowers gratefully declined.