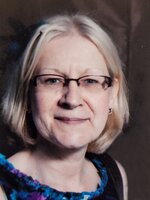 LINDA WILKOWSKI
LINDA GAIL WILKOWSKI
JULY 21, 1955 - MAY 10, 2022
It is with profound sadness that we announce the passing of our beloved wife, mother, and sister, Linda, peacefully at home in her bed at the age of 66 on May 10, 2022. She gave up after her long struggle with dementia and can finally rest now.
She was pre-deceased by her parents Bill Klymuik and Joyce Smiley, and stepfather Stanley Smiley.
She is survived by her husband Ed, sons Randy and Kris, sister Sharlene, brother-in-law Rick, her Aunt Joan, Uncles Robert (Toni), Richard (Lorraine), Nephew Skye (Laura), Cousins Andrea (Gary), Kaitlin (Dan), also many other family.
Linda was born and raised in Winnipeg, MB where she attended high school and met her life partner. She raised a family, and spent her entire life in Winnipeg amongst relatives and friends.
Linda valued her privacy and preferred being with family more than any large social function. She was easygoing, generous, kind in nature and would often go out of her way to please others. This meant usually preferring to host an affair rather than going out to one. She had an affinity for animals, though she especially loved dogs, having had them most of her life. She supported animal charities.
She also valued a strong work ethic never being without some type of work for very long. After applying for a position in the accounting office at the new-at-the-time Seven Oaks Hospital on a whim, she remained there for the rest of her working career of 32 years.
In keeping with Linda's wishes and private nature, cremation will occur and a private family interment will be held at a later date.
The family would like to extend a special blessing to Linda's care angel HERMIE SARMIENTO that did everything possible to care for Linda and brighten her day for the last year and a half of her life.
"We love you more than words could ever express. You are the best wife and mother anyone could ever ask for and will remain in our hearts and memories forever"