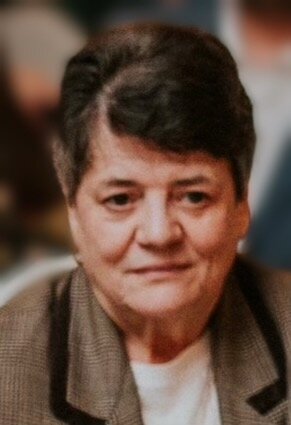 Obituary of MARIA DOS ANJOS FRIAS
Maria dos Anjos Frias
April 6, 1948 - September 27, 2021
On the morning of Monday, September 27th at Grace Hospital at the age of 73 years, Maria Frias, wife, mother, sister, grandmother, aunt, and friend, passed away after a short battle with cancer. Her son Marco and sister Natalia at her side.
Born in Santo Antonio Capelas Sao Miguel, Azores, she was the eldest of five siblings and daughter of Antonio Rodrigues Jr and Itelvina Matias. She was predeceased by her son Rui and her brother Jose Rodrigues.
She will be lovingly remembered by her husband of 51 years Antonio, who were married on January 25, 1970. She is also survived by her children Tony (Leslie), Paulo (Joanna), Marco, Nelson (Ashlie); her grandchildren Brittney, Makenzie, Breazy, Taio & Tahsos; brother Antonio Rodrigues (Maria Helena) and sisters Natalia Cabral (Jose) and Maria Helena Pereira (Jose) and numerous nieces and nephews.
Mom immigrated to Winnipeg, Canada with Dad and their two sons, Tony and Paulo, on March 11, 1973. Later that year, she had Rui, followed by Marco in 1975, and Nelson in 1980. Mom enjoyed raising her five sons, spending time crocheting, cooking for her family, volunteer work at the church, and working part time at Bee Clean Janitorial Services for many years before retiring early due to psoriatic arthritis. Despite her disability, this never stopped her from doing all the things that she loved without any complaints or sign of struggle with her illness. She will forever be remembered for her bold personality and loving honesty. The family will miss her Sunday lunches, where she couldn't sit down because she had to make sure everyone had enough to eat. These special Sundays were cherished by all, including her sons and grandchildren, as well as Goretti, Nelson, Natalie, and Lucia, her special nieces and nephew, who grew up next door.
The love of her family was especially expressed with her famous phrases; "how is everybody", "is everybody ok", "say hello to everyone", or when she would never forget to remind her kids, no matter how old we were, to be careful when going to the "river ", or when travelling to make sure to call her when we got to a destination and when we arrived back home safely.
The family expresses their thanks and appreciation to the staff at Grace Hospital for their tireless care and kindness during her final days.
Moms are special people; we realize how important and impactful they are in our lives when they leave us from this world
So, to a special lady, we say goodbye for now, in life we loved you dearly, in death we love you still. In our hearts you hold a place no one can ever fill.
Mass of Christian burial will be held on Saturday, October 2nd at 10:00 am at the Immaculate Conception Roman Catholic Church, 181 Austin St. N followed by interment at Assumption Cemetery, 3990 Portage Ave.
In lieu of flowers, the family request donations be sent to the Breast Cancer Society of Canada
Mass of Christian Burial
10:00 am
Saturday, October 2, 2021
Immaculate Conception Roman Catholic Church
181 Austin Street
Winnipeg, Manitoba, Canada
Interment
Assumption Roman Catholic Cemetery
3990 Portage Avenue
Winnipeg, Manitoba, Canada