Contact Us Anytime
(204) 586-8044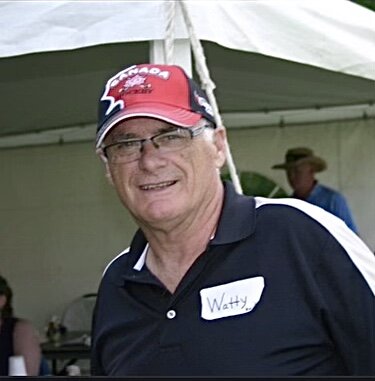 Obituary of KEITH ALLAN WATTS
KEITH ALLAN WATTS
Although he is no longer sharing this earthly home with us, Keith's contagious booming laughter will echo forever in the hearts and minds of all who knew him.
Keith was born June 9, 1949, to Mary (Collis) and Arthur Watts and spent most of his life calling Transcona home.
He passed peacefully with family by his side on October 8, 2021, following a brief struggle with Amyloidosis AL.
He is survived by his wife Debbie and step-children Darren Ducharme (Krista), Deryk Ducharme, Karen Sonnenberg (Norman), and Tairyn Doupe (James), as well as his beloved grandchildren Nicholas, Joshua, Peyton, Aedon, and River. Also grieving are Keith's brothers Raymond (Betty Ann), and Barry (Heather), his mother-in-law Jean "Nanny" Osadac, and brother-in-law Ronald Osadac (Cindy), as well as numerous nieces and nephews.
He was predeceased by his parents, and by his first wife Erna (Owens) Watts, with whom he shared 25 happy years.
Keith was a career civil servant with the Province of Manitoba. He retired in 2004 from Human Resources with the Department of Family Services.
Growing up in Transcona, Keith was actively involved in community sports activities. He especially loved hockey and spent endless hours outdoors at Pirates. He was the ultimate sports guy, both as a participant and fan. He enjoyed curling, volleyball, playing and coaching baseball, and took up golf later in life. Over the years he had Bomber season tickets and was a faithful Jets fan, frequently taking his father to watch them play. Keith and Debbie attended many Goldeyes games, and were regulars in the stands at Railer Express games. He also subscribed to every sports package available on television, and would often watch several sports at one time. He was the fastest channel-changer in Transcona.
Cars were a passion; he loved owning sporty and luxury vehicles, and always enjoyed a trip to an automotive showroom.
Keith was his grandchildren's greatest fan. He rarely missed a game, concert, or recital. He happily traveled across Canada and the northern U.S. to cheer them on. He held a special place in his heart for his nieces Aynsley and Dorian, and nephew Russell, as well as his great-nieces and great-nephew.
Playing pool was also a passion. Keith skipped more than one class to hang out at "The Tange" honing his strategic skills, and nurturing his competitive nature. It was the one activity he enjoyed his entire life. He loved playing pool so much that his first date with Debbie was at a pool hall; and ever the competitor he did not let her win; in fact she barely got to lift a cue. He was a keen and skilled poker player, and never backed away from a Scrabble challenge.
Keith spent many enjoyable summers at the family cottage at West Hawk. He loved taking his nieces, nephews, and friends' children out on the boat for long afternoons of tubing and skiing. Some of his happiest hours were spent out on the water. Snowmobiling was also a part of cottage life, and a quick run to Rennie for a grilled cheese or burger and fries, was a necessity almost every weekend.
He was born in one of the warmest summers on record, which may explain why he fell in love with Texas, or could it be because Debbie introduced him to the snowbird lifestyle?
Keith and Debbie shared 18 wonderful years together and were married on May 6, 2006. They enjoyed Texas winters, dancing, golf, cruising, casino trips, and travelling across Europe, Canada and the USA. They loved hosting large gatherings of family and friends. These were full, busy, and fun-filled years punctuated with fireworks – actual fireworks – Keith loved watching the sky light up, and celebrated birthdays and Canada Day with elaborate and carefully orchestrated pyrotechnic displays.
Keith loved being with people, and had many life-long friends and "friend traditions" like 25 years of May long-weekend fishing trips, and the almost-annual Christmas dinner and cigars (when allowed) at Hy's.
His was a life well lived, sharing love, support, and true friendship to all within his circle. He will be missed.
Debbie extends thanks to friends and family who called and visited with Keith over the past few months. Your love and support brightened his days and lifted his spirits.
Flowers gratefully declined. Donations to Cancer Care Manitoba in memory of Keith are appreciated.
A service of remembrance will be held Friday, October 15 2021 at 1:00 pm, at Cropo Funeral Chapel, 1800 Day Street, Transcona, with Reverend Jeff Cook officiating.
Proof of vaccination and masks are required for in-person attendance. The service will be live-streamed at Cropo.com.


Share Your Memory of
KEITH ALLAN
Proudly Serving:
Proudly Serving the Communities of Winnipeg, surrounding area, and the communities of Manitoba.
Who We Are:
Cropo Funeral Chapel was founded in 1957. We are an independent family-owned funeral service and cremation provider.