Contact Us Anytime
(204) 586-8044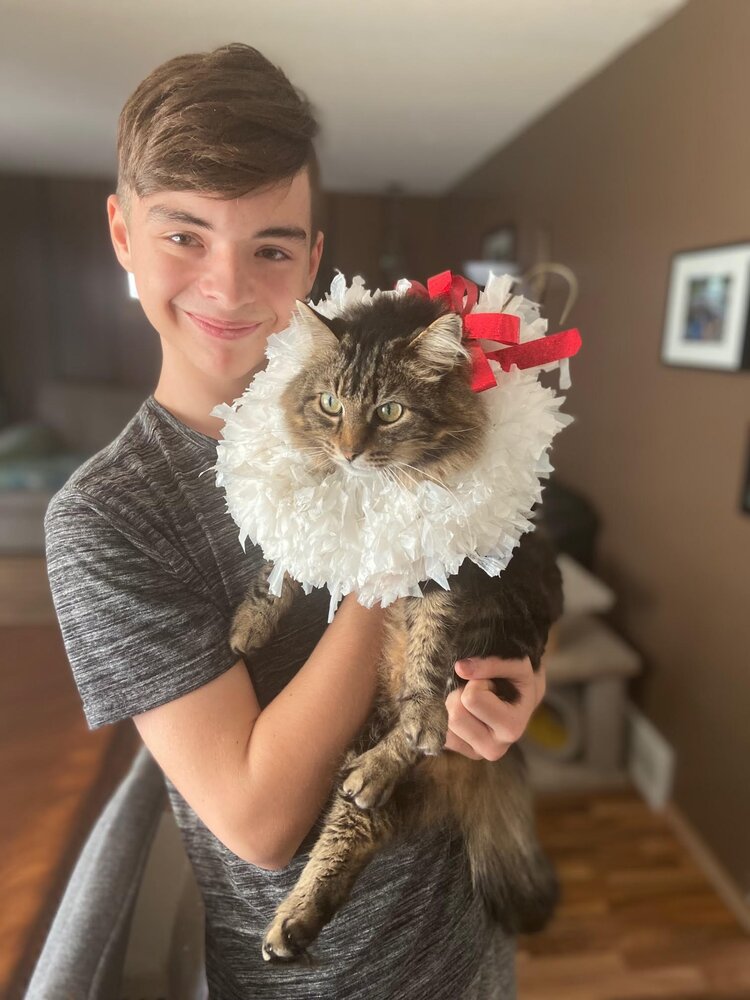 Obituary of SÉBASTIEN BRIAN D'ARTAGNON RITCHOT
July 5, 2004 to November 23, 2021
Sébastien Brian D'Artagnon Ritchot passed away on November 23, 2021 at The Health Sciences Centre surrounded by members of his family at the young age of 17 years.
Sébastien was predeceased by his Papa René Ritchot (in 2020) his Matante Léa (in 2018) and by his paternal grandparents before his birth.
Sébastien is lovingly remembered by his Maman Nicole, who had his heart, his stepfather Jordan, who cooked the best meals for him and added laughter. His sister Leanna, who was a second Maman to Sebby and her fiancée Kat, who was his new fishing buddy. His Brother Ren, who he jokingly annoyed relentlessly; and cuddled with every weekend. His Step brother Dylan, who he lived with Monday to Friday at a condo in Winnipeg as the odd couple. His Step sister Chloe, who he built and mined with in Minecraft. His grandparents Julia and Brian, who always had the best snacks and fishing expertise. His Uncle Albert, who taught him how to pray. His Uncley Bob, who he started to spend more quality time with. His Uncle Jim and his Auntie Marilyn, who he always stole gum and candy from. His stepmother Rocio, who he always respected to help him through his financial situations after his Papa passed. His step grandparents Jim and Heather, with whom he never got to spend enough time with. His Matante Christine, who taught him how to make his own pickles so that he didn't have to ask her for jars every week. And so many other important family members and countless friends.
Sébastien was born a week early ready for life and was delivered quickly at the nearest hospital. He was raised on a chicken farm in Aubigny, Manitoba until the age of 5. He split the following 12 years living between his Mom's home in St. Pierre-Jolys, Manitoba and his Papa's home in Kleefeld, Manitoba. He attended École Communautaire Réal-Bérard in St. Pierre-Jolys until grade 8 and attended St. Paul's High School from grade 9 until his passing. He was a gold honour roll student and was scheduled to graduate in June of 2022. He studied very hard as his dream was to become a Surgeon. He started working at Canadian Tire on Kenaston in April 2021 and worked in customer service, loving his co-workers as friends.
Sébastien's horizons were broadened by travelling every year with his Papa to see different cultures and ways of life. In his short 17 years of life, he visited Colorado, Wisconsin, New York City, Hawaii, Costa Rica, Mexico, Florida (Orlando and Marathon), Cozumel, Las Vegas, Phoenix, and many other destinations across Canada and the United States of America. He also spent many weekends in Grand Forks; and many weeks during the summer at different cabins with his Mom, step dad, siblings and grandparents Julia and Brian. Sebby loved exploring airports and visiting other countries and there was never a dull moment while he was travelling.
Sebby was a student like no other, studying every day after school and making sure he wrote the best essays and assignments, getting his brother to proofread them for him afterwards. He was an incredible student with an incredible drive to succeed. He achieved amazing grades like no other, hoisting and boasting to his family and fellow students whenever he got a perfect score. Sebby wanted nothing more than to be the best of the best, and dedicated so much of his time to be the most successful he could be. We all know he was the best of all of us.
Sébastien was an avid fisherman and adored fishing with his mother all Spring, Summer, and Fall, and if he was lucky, once in the Winter. While his siblings and grandparents often joined them, he bugged his Mom to go fishing almost daily when he was home with her. When Sébastien wasn't fishing or studying, he was playing cards or board games with his family or he was cleaning up at the St Peter and Paul's Bingo Hall. He loved to play Bingo with his Mom and brother Ren, where he would spend some time talking to the bingo organisers who loved him dearly. Sebby enjoyed spending his time watching Avatar the Last Airbender while imitating water bending. He loved watching anime with his siblings and Maman, specifically Demon Slayer and Attack on Titan. He would rewatch his favourites scenes on a daily basis either with a severe look of concentration or a big smile on his face.
We want to thank everyone and anyone who helped Sébastien at Health Sciences Centre, including and not limited to the Emergency Room Nurses and Doctors, the Gold Trauma Team, his intelligent and compassionate SICU nurses Jeannine, Brooke, and Anna and all of the Doctors involved in his care in the Surgical Intensive Care Unit. We would like to thank St. Pierre-Jolys and Niverville Fire and First Responders, Paramedics and the RCMP officers who helped Sebby on scene. Thank you to the staff of St. Paul's High School as well as un gros merci to Sébastien's mentor, Ray Comeault, for not only taking care of us as a family, but taking care of their students in their time of need. So many thanks from the family to every single community member who has helped them through a time that no family should have to endure.
In accordance with Sebbys wishes, cremation will take place and a private celebration of life will be held at a later date when COVID19 restrictions relax.
In lieu of flowers, if anyone so desires, donations can be made in Sébastien's name to St Paul's High School as the family has decided to raise funds for a bursary in Sebbys honour.
Sebby was not alone in life, nor will he be in death. He was let go surrounded by his family and welcomed by his Papa in the afterlife.
"Life happens wherever you are, whether you make it or not." – Uncle Iroh, Season 2, Episode 14 "City of Walls and Secrets" Avatar: The Last Airbender.


Share Your Memory of
SÉBASTIEN BRIAN D'ARTAGNON
Proudly Serving:
Proudly Serving the Communities of Winnipeg, surrounding area, and the communities of Manitoba.
Who We Are:
Cropo Funeral Chapel was founded in 1957. We are an independent family-owned funeral service and cremation provider.