Contact Us Anytime
(204) 586-8044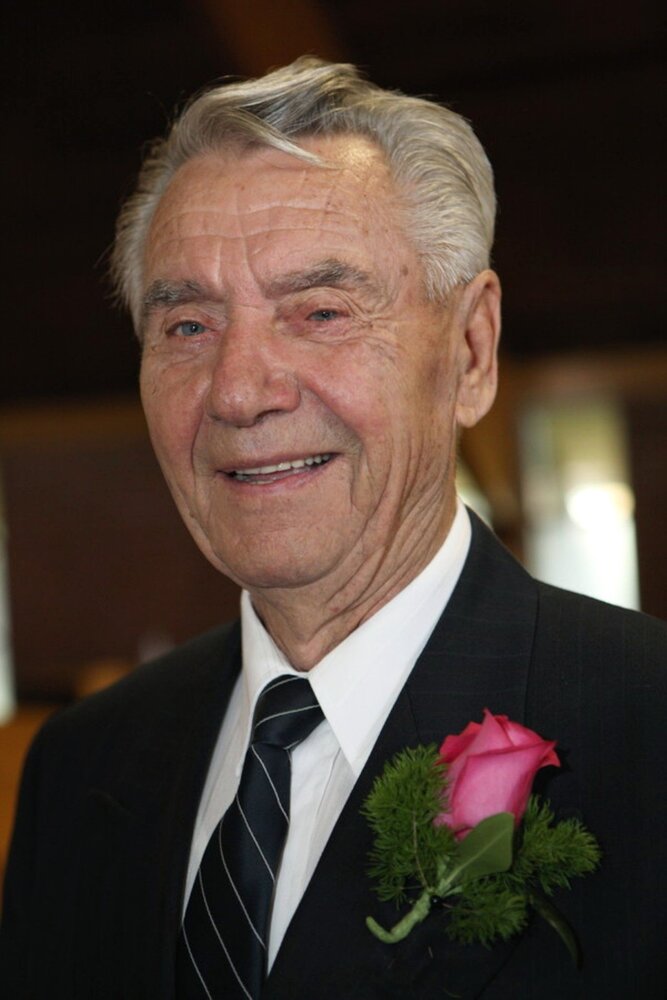 Obituary of TADEUSZ (TED) JOZEF MALAWSKI
TADEUSZ (TED) JOZEF MALAWSKI
August 28, 1922 – November 22, 2021
It is with deep sorrow and much love that we announce the passing of Ted Malawski, three months after his 99th birthday. Dad left us peacefully, with family at his side, at the Lion's Manor PCH in Winnipeg. He was a humble man, a devoted husband, and an incredible father, grandfather, and great-grandfather.
Ted was pre-deceased by his wife Aniela (2013), his eldest daughter Halina Roth (2000), and his son-in-law Walter Roth (2014). He will be lovingly remembered by his sons, Richard (Raymonde), Ed (Joy), his daughter Teresa (Kelly Smith), his eight grandchildren Keverley, James (Chantal), Jeffrey (Joelle), Julie, Tobie, Michael (Alicia), Kayla, and Ryan and his seven great-grandchildren Victoria, Thomas, Zachary, Matteo, Jaymee, Liam, and Avaya.
A private family funeral service with Christian Burial Mass for Ted was held Wednesday, December 1st, 2021 at St. Alphonsus Roman Catholic Church. Interment followed at Holy Ghost Roman Catholic Cemetery.
A celebration of Ted's life with family and friends will be held at a later date.
Ted was born in northeastern Poland in the city of Chodorowka. He was 17 years old when the German army invaded his city. Like many Polish citizens, he was arrested and sent into forced labour for five years in the area of Mecklenberg, Germany. It was during this challenging time that he met a teenaged girl named Aniela who had also been taken from Poland to the same area. Over the years, the two fell in love, and one year after the end of the war, they were married in a refugee camp in Lubeck, Germany. The following year, their first child, Halina, was born there.
Ted applied for immigration to Canada and arrived, alone, June 30th, 1948, at Pier 21 in the Port of Halifax, Nova Scotia. He traveled on to a farm near Barrie, Ontario to fulfill his work contract. One year later, his wife and three-year-old daughter joined him and they decided to settle in Winnipeg.
In 1949, life for young immigrant families was very difficult. Finding housing and a job was challenging. There was no government assistance whatsoever and Ted and Aniela had no family to help them. After taking odd jobs he could find, Ted found permanent work at the St. Boniface Stockyards from where he would retire at the age of sixty-five.
Ted and Aniela were not afraid to work hard to ensure their children would have a better life. Toiling and sacrificing while living in Winnipeg's North End were rewarded; and they moved from an attic space, to two rooms at the top of a house, to a tiny shanty, to a small house, and lastly to a larger one. Many happy, simple times were enjoyed with friends in one another's homes, at city parks, at Winnipeg Beach, and sometimes enjoying going to a movie or getting 'chips' from the window at Kelekis on Main Street.
Ted was fortunate to have friends from his childhood in Poland, as well as from his and Aniela's time in Germany, living in his neighbourhood. Among them were John and Mary Szajewski and their daughters Laura and Jeanette. They considered each other Family and remained as such until Ted's passing.
Of utmost importance to Ted and Aniela was their family and with the passing of years, the love in their hearts grew to include their children's spouses, followed by grandchildren and more spouses, and then great-grandchildren. Ted was proud that the latter were the third Malawski generation to be born in Canada. He would often tell us that Canada was a wonderful country in which to live, that it had provided him with many opportunities and that he had been very fortunate to come here. Ted was always happy to hear of the accomplishments and successes, and the daily life occurrences of those he loved so dearly. We all felt secure in the tremendous love he had for each of us; he told us often!
If you ever met Ted, you knew what it was like to be warmly greeted, to have him take a genuine interest in you, to feel sincerely liked by him. Ted loved to socialize and was happiest with gatherings in his and Aniela's home, preferably around the kitchen table, with chairs and stacking stools added in order to accommodate everyone. For him, any departure time was always too soon, even if our visits always ended with hugs accompanied by "I love you".
Ted's qualities were so very numerous, we can lovingly overlook his occasional slips of stubbornness and impatience. He was courageous, determined, hard-working, devoted, loyal, honest, helpful, and generous. Ted possessed a strong Catholic faith and he was especially grateful to receive the Holy Eucharist several times a week during his last years. We are thankful to Father Armand LeGal from Holy Family Parish for administering the Sacrament of the Sick to Dad.
Dad/Grandpa/Great-Grandpa was a role model to all of us. The manner in which he lived his life is the most blessed of gifts he has given his family and we give thanks for the many precious years together.
The family wishes to extend heartfelt thanks to the caring and thoughtful 4th floor staff at River Ridge II where Ted resided in 2019 and to the amazing staff at Irene Baron Eden Centre where Ted resided from November 2019 to October 2021. The kind, compassionate, and outstanding care of the Marigold Lane Staff, and most especially Heather and Rose, truly made a difference in Ted's and his families' lives. We are also grateful to the 3rd Floor staff at Concordia Hospital for the medical care given to Ted during his short illness. Lastly, our appreciation is extended to the 4th Floor staff at Lion's Manor PCH. Although Ted was there but for two weeks, we will remember with gratitude the sincerity of your kindness and care shown to Dad and to his family.
"His heritage to his children
wasn't words or possessions,
but an unspoken treasure,
the treasure of his example
as a man and a father."
-Will Rogers Jr.


Share Your Memory of
TADEUSZ (TED)
Proudly Serving:
Proudly Serving the Communities of Winnipeg, surrounding area, and the communities of Manitoba.
Who We Are:
Cropo Funeral Chapel was founded in 1957. We are an independent family-owned funeral service and cremation provider.